The objectives of Fo Guang Shan are to promote the principles of Humanistic Buddhism and to foster peace and harmony among all peoples of the world. The founder, Venerable Master Hsing Yun, has guided this effort by providing educational opportunities, sponsoring cultural events, engaging in community service, and by extensively writing and teaching about the Buddhist path of wisdom and compassion. Venerable Master Hsing Yun emphasizes not needing to "go some place else" to find enlightenment (paradise), for we can realize our true nature right here and now, within this precious human birth and this world. When we actualize altruism,joyfulness,and universality, we are practicing the fundamental concepts of Humanistic Buddhism. When we give faith, hope, joy, and service, we are helping all beings, as well as ourselves. For nearly half a century, Venerable Master Hsing Yun, founder of Fo Guang Shan, has devoted his efforts in transforming this world, through the practice of Humanistic Buddhism. He reminds us that to transform our world, we must be actively engaged in it. "Community transcends the individual," he says, "and in doing so, fulfills the individual in the most complete way possible." Wherever he goes, he encourages people to unite both the local and global communities into a world of complete equality, joyfulness, and perfect peace. The goal and its aims are to promote Humanistic Buddhism around the world by the four founding principles: To propagate Buddhist teachings through cultural activities. To nurture talents through education. To benefit societies through charitable programs. To purify human hearts and minds through Buddhist practices.
Social & Medical Programs
The Fo Guang Shan Compassion Foundation assists the poor, the sick and the homeless by providing free medical care at the main monastery and by dispatching mobile clinics to remote villages.
The educational programs of Fo Guang Shan include four Buddhist colleges, two universities in Taiwan and one in the United States. 
Based on a sense of gratitude towards the Buddha, the country, the parents, and all living beings, resident monastics and many lay devotees at Fo Guang Shan get up at 5:30am daily to conduct and participate in the morning services of chanting and prostration. 
The Fo Guang Shan Mottoes
Offer others faith.
Offer others joy.
Offer others hope.
Offer others convenience.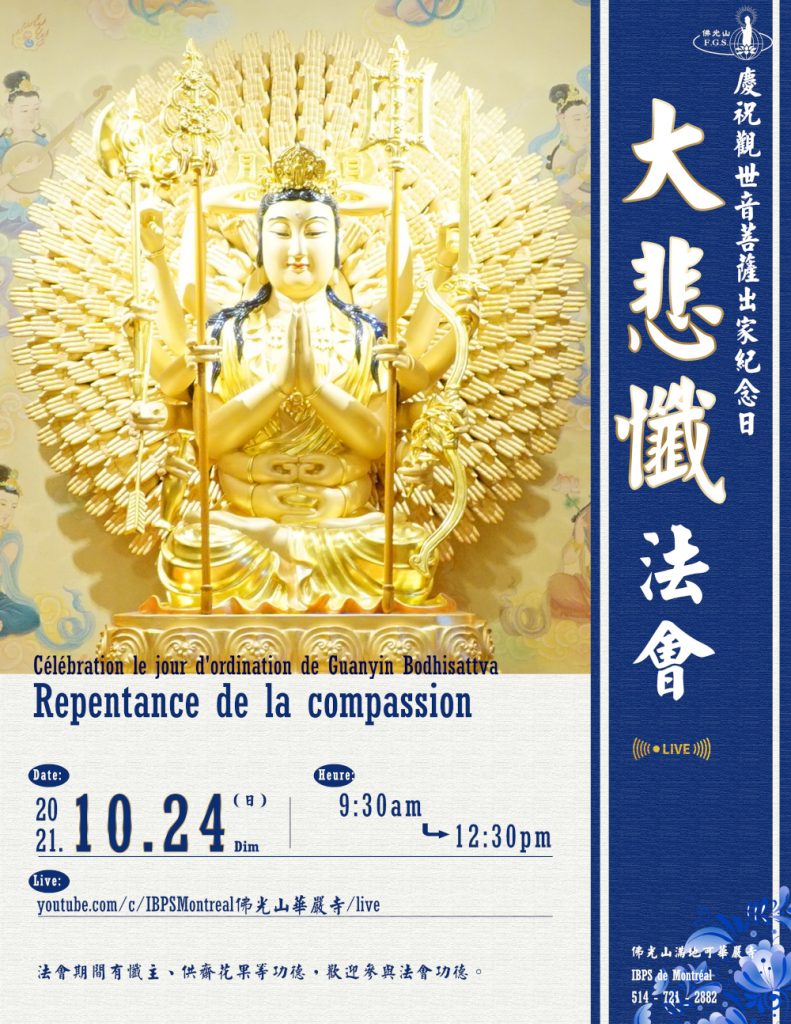 Great Compassion Repentance Service
2021 North America Cloud Lecture Series
Introducing 8 speakers, helping to illuminate the path towards wisdom for all.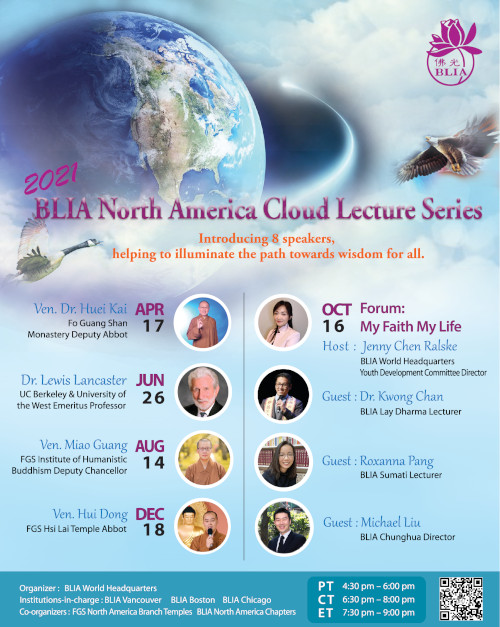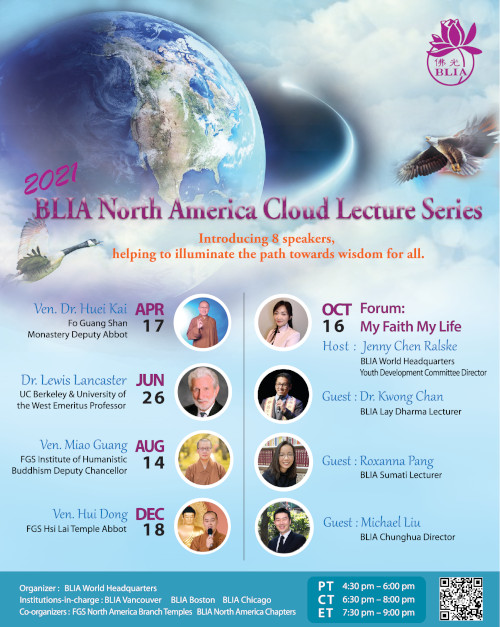 Address: 3831 Jean-Talon Street E., Montreal, QC H2A 1Y3 CANADA
Email: montreal@ibps.org
Phone: 514 721-2882
© Copyright 2021 I.B.P.S. Montreal. All right reserved.