The Pumen Chinese School was established in April 1997, to correspond to one of four main purposes of FGS Temple: 
Using cultural events to promote Buddhism
Using education to cultivate our skills
Using charity events to benefit society
Using Dharma service to purify our minds
Our school hired qualified teachers, selected updated textbooks, implemented dynamic curriculums to motivate student's wisdom and potential. Our aim is to allow learning Chinese in a casual and joyful atmosphere, be grateful to their parents, cultivating a good learning pattern and rightful understanding. In September 2003 year, our school reached over 100 students. In 2005, our school became a government certified learning centre for language learning.
On top of learning Chinese, we also offer classes for various skills, like painting, martial arts, dancing, drumming, all meant for harmony and a joyful learning experience.
Our school accepting students from kindergarten to grade six, divided according to each student's level, operates on Saturday only. There are two semesters, September to December and February to May.
We employed the motto of Three Goods: Saying Good Words, Doing Good Deed, and Thinking Good Mind.
Pumen Chinese School
‍
3831 Rue Jean-Talon E., Montreal, QC H2A 1Y3 
Phone: 514-721-2882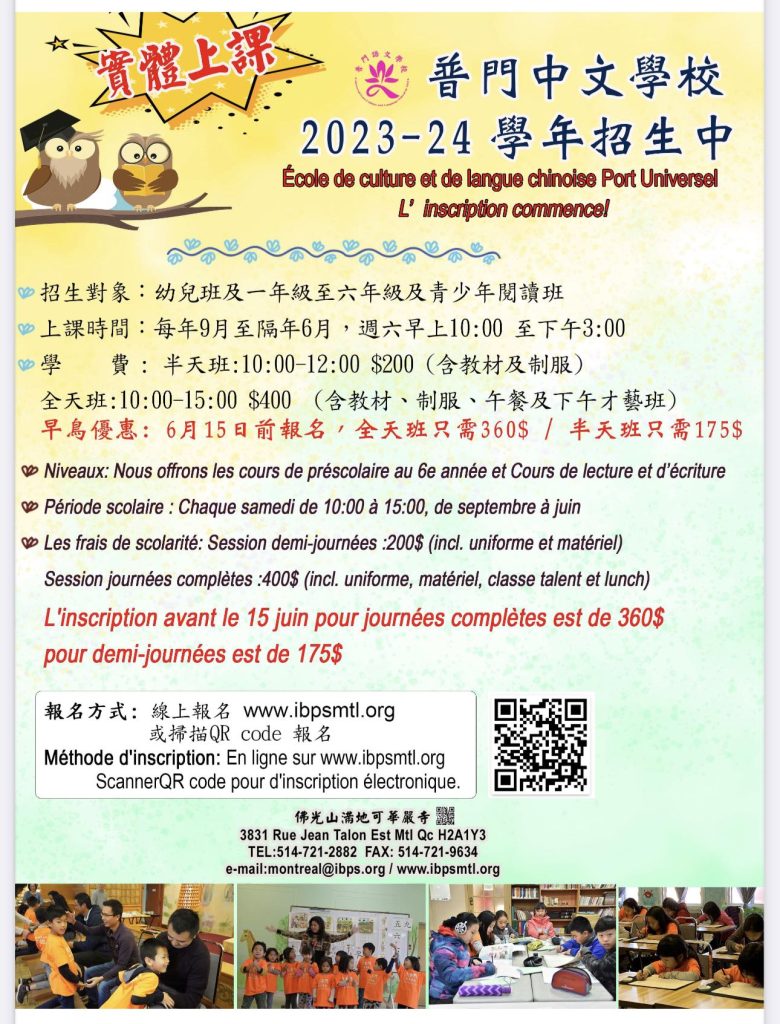 If you have any questions or comments, you can contact the school via giving the Temple a call at (514) 721-2882.