The objectives of Fo Guang Shan are to promote the principles of Humanistic Buddhism and to foster peace and harmony among all peoples of the world. The founder, Venerable Master Hsing Yun, has guided this effort by providing educational opportunities, sponsoring cultural events, engaging in community service, and by extensively writing and teaching about the Buddhist path of wisdom and compassion. Venerable Master Hsing Yun emphasizes not needing to "go some place else" to find enlightenment (paradise), for we can realize our true nature right here and now, within this precious human birth and this world. When we actualize altruism,joyfulness,and universality, we are practicing the fundamental concepts of Humanistic Buddhism. When we give faith, hope, joy, and service, we are helping all beings, as well as ourselves. For nearly half a century, Venerable Master Hsing Yun, founder of Fo Guang Shan, has devoted his efforts in transforming this world, through the practice of Humanistic Buddhism. He reminds us that to transform our world, we must be actively engaged in it. "Community transcends the individual," he says, "and in doing so, fulfills the individual in the most complete way possible." Wherever he goes, he encourages people to unite both the local and global communities into a world of complete equality, joyfulness, and perfect peace. The goal and its aims are to promote Humanistic Buddhism around the world by the four founding principles: To propagate Buddhist teachings through cultural activities. To nurture talents through education. To benefit societies through charitable programs. To purify human hearts and minds through Buddhist practices.
Social & Medical Programs
A strict teacher that has been teaching since the age of 16. Stella won't give you any slack, so you will have to do the very best work you've done in your life.
Donald has a PHD in both Computer Science and Design. His beginner course is a must see for any aspiring web professional who want to learn from the best.
If there's someone who can explain anything, Gaby is the one. She teaches you not just how to do something, but why to do it this way and not the other.
The Fo Guang Shan Mottoes
Offer others faith.
Offer others joy.
Offer others hope.
Offer others convenience.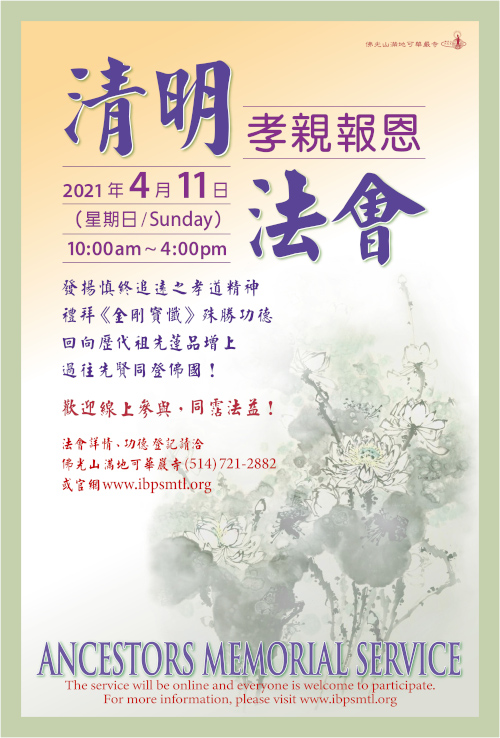 Ancestors Memorial Service
The service will be online and everyone is welcome to participate for more information. Click here.
2021 North America Cloud Lecture Series
Introducing 8 speakers, helping to illuminate the path towards wisdom for all.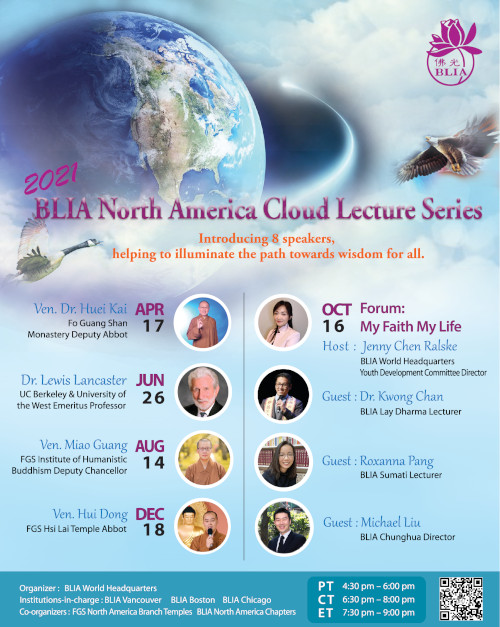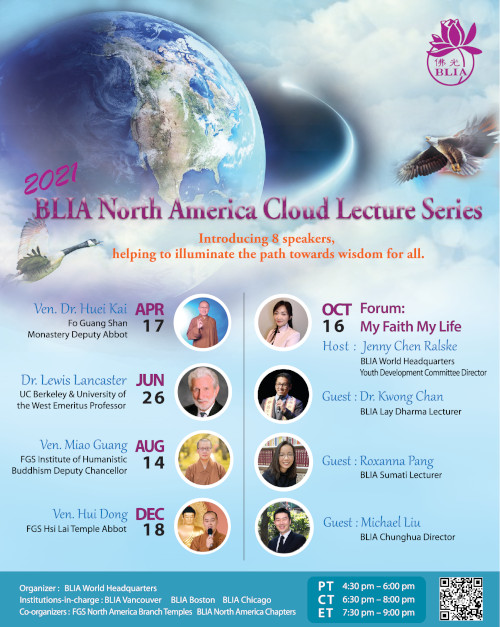 Join our course and start building the most wanted career available today. We make sure every class is easily understood, and that all students reach the same level of expertise needed for today's hi-tech industry.